Berkala Ilmiah Agridevina published by the Agribusiness Study Program of the Faculty of Agriculture, East Java "Veteran" National Development University which conducts scientific research in the field of Agricultural Socio-Economics and Agribusiness. Agridevina publishes twice a year (July and December) with Indonesian and English texts. The editor receives texts from academics, researchers, agricultural, economic and agribusiness observers.
Announcements
No announcements have been published.
Vol 9, No 1 (2020): BERKALA ILMIAH AGRIBISNIS AGRIDEVINA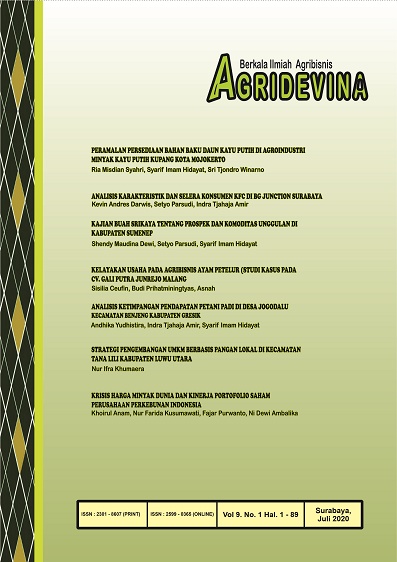 DIINDEKSIKAN OLEH:

HAK CIPTA JURNAL BERKALA ILMIAH AGRIDEVINA ISSN 2301-8607 (cetak) , ISSN 2599-0365 (online) .
Hak cipta dari AGRIDEVINA

Karya ini dilisensikan dengan Lisensi Internasional Creative Commons Attribution-ShareAlike 4.0 .
View My Stats